Motivation
When working with time-series data (or any dataset with 1 distinct y-value for each x), there often arises a practical need to develop & optimize a transformation. For example, moving average is used in a wide variety of settings ranging from Daily COVID hospitalizations to financial technical analysis. Such metrics have enormous potential public and/or business implications. This warrants extensive testing prior to implementing a transformation used to generate metric of interest.
Whether it's due to cost or time, the lack of real-world data is a probable challenge in this setting - necessitating the generation of simulated data. However, it might not be feasible or cost-effective to develop a rigorous model fully characterizing the phenomenon of interest. Any coordinates following an arbitrary (yet continuous) trajectory might be sufficient to test and optimize a transformation. meandr is designed to fulfill this need.
Basic Usage
Each call to meandr() outputs coordinates from a continuously-differentiable-piecewise-polynomial. In other words: a 2nd-order spline.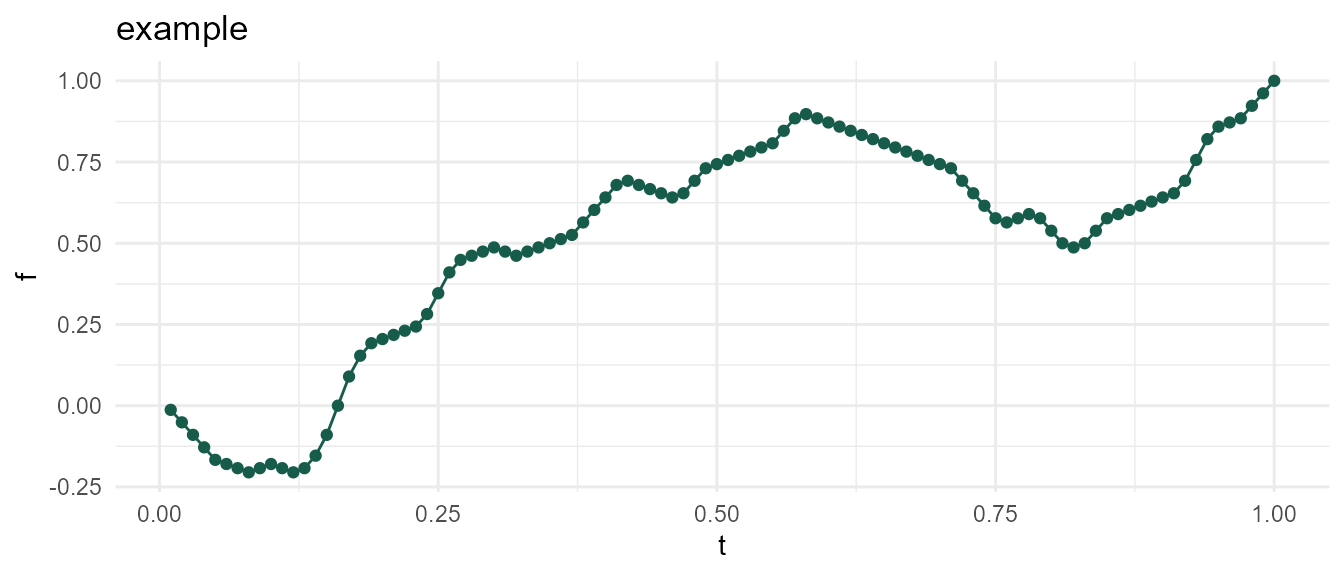 You can supply arguments if you wish to change default curve behavior. These are discussed in the next section.

meandr

(


  n_nodes 

=

 

100L

,  

# number of inflection points (more nodes -> more intricate curve)


  wt 

=

 c

(

1

, 

-

1

)

,   

# values used to generate 2nd derivative (these are sampled with replacement)


  gain 

=

 

0.75

,     

# controls sensitivity of wt sampling


  n_points 

=

 

100L

, 

# number of coordinates (aka resolution)


  scale 

=

 

1

,       

# scales all f(t) values so that max(f(t)) == scale


  seed 

=

 

NULL

      

# for reproducibility




)